Regulation & Policy reminder: Animals prohibited in UF buildings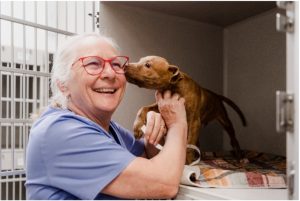 There's no denying that some of us feel like our pets are family, but please remember that animals are prohibited in any and all buildings on campus with the following exceptions:
A Service Animal, limited to a dog or miniature horse and excludes emotional support animals, as defined in the Americans with Disabilities Act and Section 413.08 of the Florida Statutes, that is individually trained to do work or perform tasks for an individual with a disability.
An Assistance Animal, limited to an animal that works, provides assistance
or performs tasks for the benefit of a person with a disability or provides emotional support that alleviates one or more identified symptoms or effects of a person's disability, within a housing setting, in accordance with the Fair Housing Act, Section 504 of the Rehabilitation Act of 1978, that is registered with the Department of Housing and Residence Education.
Other animals which are being used by the university for academic, research or law enforcement purposes.
Animals that are student or staff pets, permitted in university housing facilities pursuant to the Department of Housing's Rules and Regulations.
Animals being examined or treated at the College of Veterinary Medicine.
All handlers of the aforementioned animals must comply with all applicable university policies, state and federal law. UF Regulation 2.021 Animals Not Allowed in Buildings.
When it is not obvious what service an animal or Service Animal provides to an individual, federal law only allows limited inquiries to be asked of the handler.  Authorized UF personnel (full-time UF employees designated as the person in charge of an event, activity or facility and advised by the Office of Accessibility and Gender Equity) may ask two questions:
1. Is the dog a Service Animal required because of a disability? (The individual cannot be asked what their disability is.)
2. What work or task is the dog trained to perform?
Additionally, per the Use of University Space Policy any campus events designed to have animals participate must receive prior written authorization from the Vice President for Business Affairs. These rules apply to any event occurring on University-owned, -occupied, or -controlled lands and buildings located within the state of Florida. For requests to be considered, a permit must be applied for through the online event permitting system, GatorConnect. at least 15 business days prior to the date of the event.
Questions or concerns relating to these policies should be directed to:
Office of the Vice President for Business Affairs
https://businessaffairs.ufl.edu/
(352) 392-1336
ufba-events@ufl.edu