Mark Helms, Assistant Vice President, Facilities Services
Mark Helms, Assistant Vice President, Facilities Services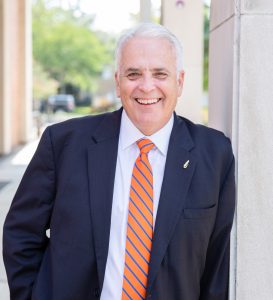 Mark Helms assumed the role of assistant vice president for UF's Facilities Services Division and Sustainability on September 16, 2016. Mark has more than 30 years of university-related operations and maintenance experience and most recently held the position of director of facilities operations at Virginia Tech. Additionally, he assisted Virginia Tech with leadership transition by serving as interim associate vice president/chief facilities officer.
During his career, Mark has held progressive and strategic planning responsibilities for operation and maintenance of educational and general assignment space including operations engineering, university design standards, building trades, storm water management and permitting, non-capital renovations, utility infrastructure, utility master planning, deferred maintenance, a cogeneration energy plant and much more.
In his new role, Mark will oversee direct services for UF buildings, common areas, streets, sidewalks, landscaping, utility systems and more in support of the Physical Plant Division's mission to maintain and improve a physical environment conducive to learning, teaching, research and service for UF students, faculty and staff, and visitors to campus.
Mark holds a Bachelor of Science from Bluefield College and is a member of various professional associations.
Administrative Support Assistant III: Tricia Coraggio