Eddie Daniels, Assistant Vice President, Business Services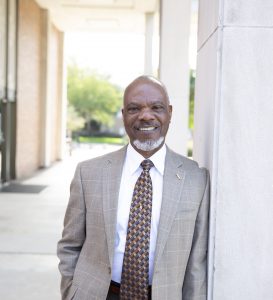 Eddie Daniels assumed the role of Assistant Vice President for Business Services and Small Business Vendor Diversity Relations in July 2017. Eddie began his career in local government, serving in various professional roles in the Office of Youth Development, City of Indianapolis, and as Government Management Specialist at the Northeast Georgia Area Planning and Development Commission, Athens, GA. Subsequently, Eddie made a career shift to higher education. Over the last three decades, Eddie has held positions in Student Affairs at various universities: Program Advisor in the Department of Student Activities, University of Georgia; Associate Director for Programs at the Russell House University Union, University of South Carolina (USC), and subsequently Director of the Student Union at USC; Director of the Student Union and Student Activities, University of Virginia; Director of Campus Activities, University of Connecticut; and most recently Executive Director of the J. Wayne Reitz Union, University of Florida for the last 12 years. Eddie has held a variety of leadership positions in the Association of College Unions International.
Eddie holds a Bachelor of Arts (BA) Degree in Zoology from Indiana University, Bloomington, IN, and a Master of Public Affairs (MPA) Degree from the School of Public and Environmental Affairs, Indiana University–Purdue University Indianapolis (IUPUI).
Executive Assistant I:  Danette Loyd