Staff Spotlight: Tara Hollow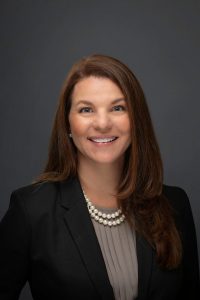 Department: Office of Vice President for Business Affairs
Bio: Tara is the Operations Manager for Permitting and Policies for the Vice President for Business Affairs. She graduated from UF in 2005 with a Bachelor of Science degree from CALS in Food and Resource Economics. Tara has been an employee at UF since 2014 and with Business Affairs for almost seven years now.
A notable achievement she's proud of is the Business Affairs online event permitting system, GatorConnect. The system is homegrown and created by the Student Life IT team. She worked closely with them for two years to piggyback on their system and set-up and implement the first online event permitting system for Business Affairs. Prior to this system going live in early 2020, her office was still processing forms via fax and email.
What's an identity you're proud to share?
"Policy Guru. I didn't set out to be a policy writer and interpreter, the job fell into my lap. I have always been a rule follower and I have a great appreciation for rules. Most rules are created because at one time or another it was recognized there was a need to mitigate risk, liability, and protect someone or something. I recognize it takes a special person to be able to set emotions aside and be consistent in interpretation and application of rules. However, while I do geek out with policies, I also am not a fan of red tape. In my role, I attempt to keep a fair balance. Perhaps that's my Libran trait."
What does your role entail?
"I'm responsible for interpreting, implementing, and managing the Vice President for Business Affairs regulations and policies, including the policies regarding "Use of Space."  To aid in this task, I manage the Business Affairs GatorConnect permitting system working closely with many campus partners to mitigate risk at campus events. GatorConnect issues permits for events and special requests for banners, yard signage, and lighting of Century Tower. In addition to the Business Affairs policies, I am the policy liaison for all 12 departments under the VPBA. I assist each unit with their policy development and walk them through the approval process."
What is your favorite part about working at UF?
"Being a part of the Gator nation. Despite our different backgrounds, beliefs, and affiliation with UF, we Gators are a family and come together as OneUF."
Fun fact about you:
"I am a 7th generation Alachua County Resident (ACR). My family was here before the University."