Staff Spotlight: Sylvia West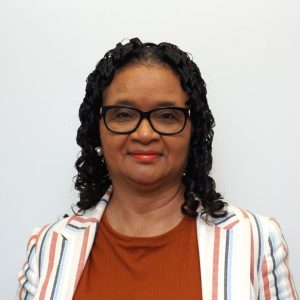 Department: Business Services
Bio:  Sylvia attended Santa Fe Community College and has worked at the University of Florida for 35 years. She is a wife and mother to two wonderful sons. She was awarded The Superior Accomplishment Award in 2008 and recently received the Postal Manager of the Year award on March 1, 2023, at the College and University Mail Services Association in Johnson City Tennessee. Sylvia attends Mt. Olive A.M.E Church in Evinston, Fl where she serves on several committees.
What's an identity you're proud to share?
"I'm proud to share that I have worked under one of the best Division for my entire 35 years (Business Services) I will retire this year on 11/23/2023."
What does your role entail?
"I'm responsible for all Incoming Mail and Packages to the University of Florida including Shands Hospital. I oversee 3 unique zip codes, 32610 ( Shands Hospital/Health Science Center), 32611 (University of Florida Campus), and 32612 ( Student Dorms). I supervise 12 employees. I also work directly with our local United Postal Services to resolve customer delivery issues and I'm a part of the local PCC (Postal Customer Council) at the United States Postal Services."
What is your favorite part about working at UF?
"Providing the best customer service to the students, faculty, and staff at the University of Florida. It's also been a pleasure working with some amazing people here a UF, my Managers, and employees (present and past)."
Fun fact about you:
"I love to travel, and I enjoy spending time with family and friends."