Staff Spotlight: Susan Pratt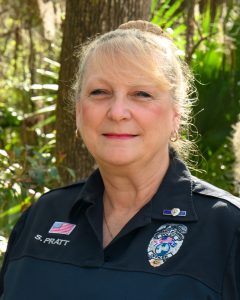 Department: University Police Department
Bio: Susan has been with the University Police Department for over 28 years and is a certified law enforcement officer. She is currently one of the lead Polygraph Examiner and Crime Scene Investigator at the department, with a certification as an Evidence Specialist and a base in forensics.
What's an identity you're proud to share?
"My goal is to be able to provide everyone possible with additional self-defense tools for their personal tool belt. In 2019-2021, I was recognized with the Officer of the Year medal from the University Police Department. In 2020, I received the recognition of Evidence Specialist Member of the Year from the Property and Evidence Association of Florida. In 2022, I received the Valor Award along with the Florida Crime Prevention Association Lifetime Achievement Award. Then in March 2023, I was honored to receive the Superior Accomplishment Award from the University of Florida. I have had a very Blessed career with a handful of humbling acknowledgments along with way."
What does your role entail?
"I have held this position for a total of 14 years with a dual role in Crime Prevention. Since 2006, I have been a Certified Crime Prevention Practitioner and CPTED Practitioner and for the past 14 years, I have had the pleasure of being the FCPA Region 4 Director, along with the PEAF (Property and Evidence Association of Florida) Region 6 President for the last 3 years. I enjoy teaching at the police academy with the new police recruits and the  Newbery High School Criminal Justice Program. I am the lead instructor and huge advocate for the women's self-defense programs, R.A.D.(12-hour course) and SAFE (2-hour course), as well as the children's self-defense program, r.a.d.KIDS! Providing these programs within our University community has been a huge eye-opener and very satisfying. I love the job that I do and am thankful for all of the opportunities that my department has given me. "
What is your favorite part about working at UF?
"Working on the University of Florida campus has a lot of perks! To be able to walk across campus and meet up with students and staff that you have interacted with for several years and be acknowledged on a first-name basis is heart-warming! There have been times that I was the first person a new student met when they arrived on campus, had a chat with them, and then four years later to be invited to their graduation. I have received wedding invitations and baby announcements from former students. The connection does not end when the students graduate."
Fun fact about you:
"Although I find my job to be exciting and never-ending, it is my family and Special Olympics Athletes that make my heart happy. I have been involved with Special Olympics Florida for more than 30 years and have athletes from Maine to Florida. I am involved with SOFL as a Coach, an Athlete Leadership Trainer, a Healthy Athletes promoter, and an avid volunteer. I am the go-to person in our region with regard to SOFL-Law Enforcement Torch Run and I have had the pleasure of volunteering at the State Games for the past 28 years as well as the USA Games this past June 2022. When it comes to Special Olympics and the athletes, I am always willing to help point you in the right direction to start volunteering! Just Ask Me!"