Staff Spotlight: Monica Cox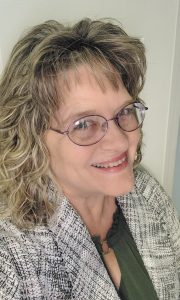 Department: Business Services
Bio: Monica is an Accountant in the Department of Business Services. She is a native Floridian, wife, mom of three, and Oma to some awesome grandkids. After some nudging from her sister, at the age of 44, while working full-time, and being a full-time mom and wife, Monica went back to college. Four years later, she obtained my Bachelor of Arts, in Liberal Studies (AA in Studio Art). She says it was one of the hardest, and most rewarding things she's done.
What's an identity you're proud to share?
"I am proud to share that I was an Army wife for almost ten years, half stateside, half abroad.  Our men and women in service are to be applauded, as should the families. Service members are away from family and loved ones for days, weeks, months, and even years on end, putting work first and family second.  Military families are the ones who hold everything together in the background, at home, so their service member can be 'all that they can be'. Being an Army wife was difficult, stressful, frustrating, rewarding, and satisfying. It can be a lonely life, away from loved ones, but I found that immersing myself in the groups and activities that the Army posts offered was my saving grace."
What does your role entail?
"As part of Business Services, my role is rather diverse as we oversee a wide variety of operations. I am involved in different billing stages for ID cards, Document Services, and Meal Plans. I review charges on student accounts for the Bookstore, Meal Plans, and GatorOne. I have the pleasure of dealing with students, parents, faculty, staff, departments, our business partners as well as external customers. I also prepare monthly financials for Document Services and assist where needed."
What is your favorite part about working at UF?
"I have worked on campus for eleven years, with UF for the past four. My favorite part of working at UF is the people, staff, students, and visitors. I love the energy on campus and look forward to coming to work every day. I love what I do and feel privileged to work at UF and with everyone at Business Services."
Fun fact about you:
"I am a neat-nick and fanatical about clean hands (as a child, I ate chicken legs with a napkin). However, if I'm drawing or painting, not only are my hands covered in charcoal or paint,  but I usually am also! Drawing and painting bring me joy and provide solace. Art is my happy place."