Staff Spotlight: Francisco Oquendo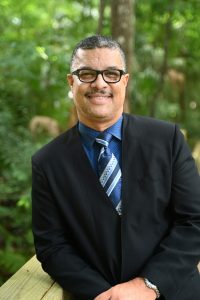 Department: Planning, Design & Construction (PD&C)
Bio: Francisco is the Assistant Director of Construction in the Department of Planning, Design & Construction. Francisco has a Bachelor of Science in Mechanical Engineering and has been working at UF for the last 18 years. He began his journey as a project manager and now mentors and provides an overview of policies and procedures to new project managers.
What's an identity you're proud to share?
"I'm proud of my Puerto Rican Hispanic Heritage and how diverse our community is."
What does your role entail?
"Being the Assistant Director for Construction, I manage the Project Managers that execute all the Minor Projects (projects less than $4MM.)"
What is your favorite part about working at UF?
"My favorite part about working at UF is the interaction with what I consider the PDC family. Not only with the people that I manage but with everyone else in the office."
Fun fact about you:  
"I've been involved with sports for basically my whole adult life. I find great pleasure in training volleyball players and expressing myself through the art of sports photography. It has been a pleasure to be here and to feel that we are contributing to the GREAT Gator Nation by executing all kinds of construction projects."