Staff Spotlight: Desirae Wallace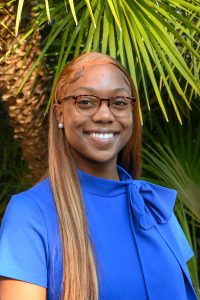 Department: Small Business and Supplier Diversity (SBSD)
Bio: Desirae is the Program Assistant for the department of Small Business & Supplier Diversity. She was born and raised in Gainesville and graduated from Buchholz High School. Desirae is currently pursuing an A.A. in Business Administration from Santa Fe College and desires to simultaneously pursue a career in real estate and accounting.
What's an identity you're proud to share?
"I am proud to share that I am a black first-generation college student. The lack of familiarity with college readiness accompanied by racial underrepresentation and low academic self-esteem can be an overwhelming challenge. However, it is a barrier that I will undoubtedly be able to break down."
What does your role entail?
"I've been privileged to help promote the use and support of small and diverse businesses in our community and surrounding areas. My job is to push businesses to maximize their potential while ensuring procurement opportunities are accessible, especially within the institution. Our department has multiple initiatives that help businesses expand, discover, master and market. We offer many tools for guidance and put forth many resources. I've gotten to experience first-hand what it takes to plan, organize, and execute events for the small business community. The reward is not only in the experience but also seeing them flourish."
What is your favorite part about working at UF?
"My favorite part about working at UF are the countless opportunities to grow personally and professionally. I've only worked here for 4 months, and it's been nothing short of an amazing learning experience. I highly feel as though I'm an asset to the institution. There's a strong sense of community and an urge to continue UF's core values. Moreover, I thoroughly enjoy working with my team. I know that we will create strong relationships and lasting connections."
Fun fact about you:
"Every time I go to New York City I have to visit Little Italy because Italian food is my favorite. Honestly, I could eat it every day."