Staff Spotlight: Corey Farmer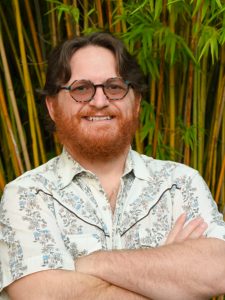 Department: Office of Sustainability
Bio: Corey is from Huntsville, Alabama. He got his BS in mechanical engineering at Auburn University where he interned at their Office of Sustainability before joining the Navy's nuclear power program. Upon getting out of the military, Corey used the GI bill to get his Masters in mechanical engineering at the University of Colorado Boulder. After graduating he applied for the job of Sustainability Coordinator at the University of Florida. He has been working at UF for nearly 5 years. He volunteers with the Community Weatherization Coalition to help people in our community lower their energy costs while reducing the demand for fossil fuel-based energy resources.
What's an identity you're proud to share?
"I'm a bicycle commuter and love to hit the Hawthorne Trail when the daily commute isn't enough of a workout. Please share the road. 😊"
What does your role entail?
"As Sustainability Engineer, I document UF's greenhouse gas emissions, help improve the efficiency of infrastructure on campus, engage with collaborators on and off campus to improve climate change related outcomes, perform analysis of various metrics around campus, such as electric vehicle charging stations, to help direct future development, and got to work on UF's new Climate Action Plan."
What is your favorite part about working at UF?
"The wonderful people I get to meet and work with daily. From the wonderful conversations I get to have with Ms. Sandra most mornings to the Krishna lunches I often share with my co-workers, engaging with the wonderful people of UF is consistently the best part of the job."
Fun fact about you:
"I enjoy playing Dungeons and Dragons and various other games at Punk Outer."