Staff Spotlight: Cindy Mercado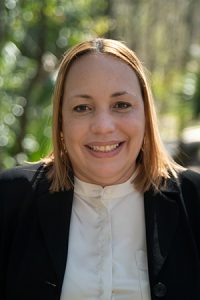 Department: Environmental Health & Safety
Bio: Cindy is the Lab Safety Program Manager for Environmental Health & Safety. She has a Master's in Science with a concentration in Environmental Health and a Bachelor's in Science with a concentration in Chemistry. Her professional experience spans a 21-year career in many diverse roles and settings including Forensic Laboratory, US Coast Guard, Pharmaceutical, Aviation Services, Healthcare, Transportation, Food and Manufacturing, and Higher Education.
What's an identity you're proud to share?
"I am proud to be Puerto Rican as well as a safety professional. Being born on a beautiful island that is rich in traditions, and cultural diversity including heritage from Europeans (Spanish), Taino Indians, and Africa makes me who I am and teach me to be more friendly, stronger, and resilient.
As a Safety professional, I am proud to influence people's lives and contribute with safety guidance to help them return safely to their families. I am a former volunteer for the Puerto Rico Emergency Management Team. I am currently part of the Red Cross disaster team volunteers. In addition to this I have served as a Safety Leader, consultant, and trainer for general and construction industry, as well as a disaster site worker."
What does your role entail?
"As a Lab Safety Program Manager, I oversee the laboratory, clinics, and chemical safety programs to ensure compliance with appropriate regulations, policies, procedures, and best practices. I directly collaborate with internal and external stakeholders to provide safety resources, as well as coordinate and conduct safety inspections, education, and training for faculty, staff, and students."
What is your favorite part about working at UF?
"The people that I get to know and work with, including the faculty, students, and staff. I enjoy being able to collaborate with a diverse research community. To help recognize risks and empower them to maintain a safe work environment is a blessing."
Fun fact about you:
"I was born on the summer solstice but late at night, and as a result, I got my nights and days messed up. Up to this day, it is still that way!  For that reason, I don't consider myself to be a morning person!!  But as a person born in June, I am always positive and optimistic."