Vehicle-restricted zone – Frequently Asked Questions
As previously announced, the University of Florida is reinstating a vehicle-restricted zone designed to improve pedestrian safety on campus on Jan. 9. The vehicle-restricted zone will be marked with signs and flashing red lights that will activate from 8:30 a.m. until 4:30 p.m. on weekdays when pedestrian traffic is heaviest.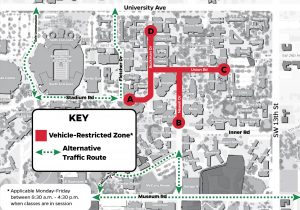 The campus community is encouraged to view the frequently asked questions below to learn more.