UF Creates COVID-19 Testing Site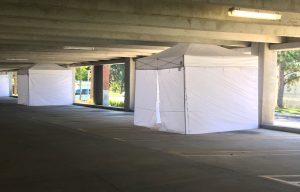 Over several weeks in May, UF departments united and contributed their time, knowledge, and resources toward the construction of the COVID-19 Testing Facility located in Garage 11, outside of the Phillips Center for the Performing Arts. In addition to employees' regular departmental tasks and responsibilities, they devoted over 260 hours in procuring materials and installing equipment to support the UF Health Screen, Test & Protect initiative.
Meghan Froman from the Emerging Pathogens Institute shared her experience and knowledge from building the testing sites at The Villages, Jacksonville, Cedar Key, Grace Marketplace, and PK Yonge for (as a few examples) to duplicate efforts at UF. "We also support in packing items like masks and working with UF Health for providing items like PPE. Student Health has taken a leadership role in supporting this site with staff and daily labor to prepare each of the packets that need to be created daily," said Froman.
The Facilities Services team utilized its employees from every sector of their department."Facilities Services Electricians, HVAC Mechanics, Plumbers, Maintenance Mechanics, Carpenters, Custodial Staff, and Groundskeepers spent seven days to set up the ten-tent testing site in Garage 11. The tents are outfitted with lighting, electrical outlets for laptops, air-conditioning, testing sample refrigerators, fans, hand wash sinks, and hand sanitizers. Due to the large number of vehicles traveling through the garage, Facilities Services placed large 8' industrial fans to pull air through the garage to remove any vehicle exhaust concentrations and installed carbon monoxide alarms to ensure the safety of all staff working within the garage," said Facilities Services Director, Gregg Clarke.
Other instrumental departments and teams include the College of Medicine's Division of Infectious Diseases & Global Medicine Emergency Management, Emerging Pathogens Institute, Gator Emergency Medical Response Unit (GEMRU), Human Resources, Office of Business Affairs, Performing Arts Center, Strategic Communications, Student Health Care Center, Transportation, and Parking Service, UF information Technology, and the University Police Department.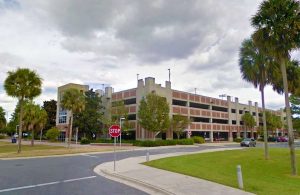 "During the planning phase, we assisted in the logistics of how the traffic pattern would be laid out and the staging of vehicles. We are now working with the various entities (Museums, Performing Arts, SW Rec Center) to ensure adequate parking and safety for patrons after they open fully on July 1," said Associate Director of Transportation and Parking Services, Ron Fuller.
The testing site has been efficient and successful. Over 15,000 employees and student-athletes have been tested at the site.  Other institutions look to UF as a guide on how to implement their testing. Without the tremendous effort of many UF departments, the site would not be possible.