UF Welcomes New UFPD Law Enforcement Captain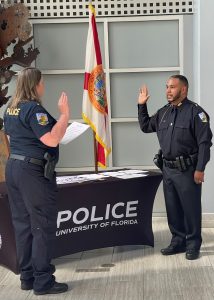 Captain Latrell Simmons started his career with UFPD on Friday, March 18th of 2022. Captain Simmons will over see the Community Services Division and perform Public Information Officer (PIO) duties, according to Chief Linda Stump-Kurnick.  
Captain Latrell is a Gainesville native. He graduated with his associates of arts degree from Santa Fe College in 1997. After graduating, he began his law enforcement career with the Alachua County Sherriff's Office in October of 1998. He has proudly served the gator community in various capacities over the past 23 years.  
In 2006, Captain Latrell received a bachelor's degree in Criminal Justice Administration from Bellevue University. He has also graduated from the FBI National Academy, Session 267, and the Saint Leo University Command Officer Management School. 
"UFPD has had the opportunity to work with Latrell on many different projects over the years and built an excellent rapport with him and his working style. Latrell is a great fit and will complement the UFPD," said Chief Linda Stump-Kurnick. 
The UFPD encourages students and staff to give a warm welcome to Captain Latrell Simmons!