UF Welcomes New Director of Physical Security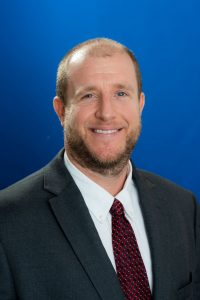 Joe Carriker, CPP, will begin working as the Director of Physical Security on November 1, 2022. Physical Security is a department within Business Affairs which focuses on campus safety and security systems management to support UF Departments and Colleges. 
"I am excited to work with all departments to improve the safety and security in the UF learning environment for students to achieve success" said Carriker. 
Carriker brings over eighteen years of combined law enforcement/security experience and over thirteen years of physical security management experience to UF. He was previously employed by University of Tennessee (UT) where he held the position of Director of Physical Security. Carriker served as resident expert for physical security planning and development while also responsible for directing on site personnel to coordinate maintenance systems. 
"I really appreciate to be afforded the opportunity at UF as the Director of Physical Security because the University has committed to creating resources where physical security can be a collaborative entity and contributor to the overall safety and security for students, faculty, and staff" said Carriker. 
Carriker earned a Bachelor of Science degree in Criminal Justice and a Master of Science degree in Vocational Education in Business Information Technologies, both from East Carolina University in Greenville, North Carolina. Carriker holds a designation of an ASIS International certified protection professional (CPP) and is also a Crime Prevention Through Environmental Design (CPTED) practitioner with advanced knowledge of safety and security principles. 
In his new role of Director of Physical Security, he will be directing UF's campus safety and security systems while providing expert leadership to the university through oversight of safety and security systems and campus-wide planning for physical security.  
Carriker says he is excited to relocate to Gainesville as it gives his kids the best opportunity to be in an area that can expand their education, while also being in proximity to close and extended family. Outside of work, Carriker enjoys staying in shape, traveling, and looking for opportunities to spend time with friends and family as much as possible.