UF Physical Security Moves Back to Their Renovated Home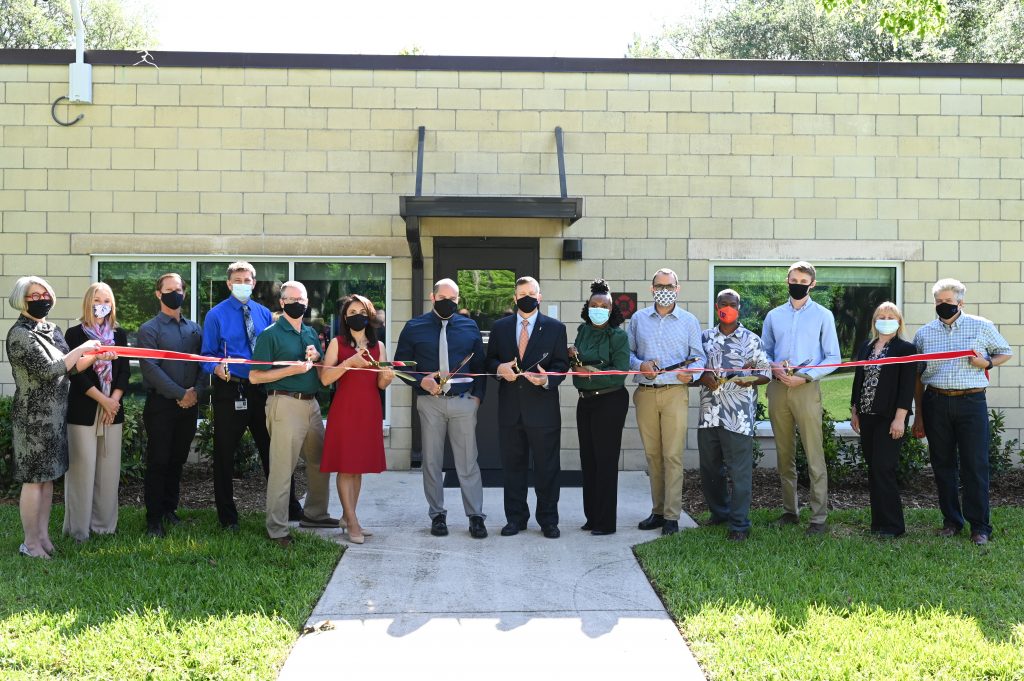 UF's Physical Security Department has finally moved into a newly renovated building they can call home. Building 429, previously the home of UF Telecommunications from 1989 until 2018, was identified to be the home of UF Physical Security when the department was formed in December of 2018. After nearly two years of anticipation, the team has an innovative and functional space in which to work and collaborate.
The physical security team has developed a lot in recent years. When the department was first founded in 2018, only four members provided physical security for the whole campus.  Vice President of Business Affairs, Curtis Reynolds, knew that Security needed a place to call their own and grow their team to support their mission – to enhance physical security across UF.
Physical Security is responsible for the different security technologies across campus. The team monitors access control (using the Gator1 card with card readers on the building), security cameras, alarm systems, panic buttons, and license plate reader (LPR) technology used by UF Police.  They also create the project design for security hardware and help manage the installation of security hardware.
"Our job is to make the campus safer through standardizing security technologies, training the campus community how to use our security systems and software, as well as maintaining the hardware," stated Joe Souza, Physical Security Department Director.
Early in 2019, Joe Souza met with Jamie Serrato, Jeff Santerre, and Will Collado from his team, as well as Dan Rowland from Business Affairs Technical Services to see what was possible in redesigning the space within the building.  They drew up a plan to make it as functional and welcoming as possible.
Creating this space was a team effort. The plan was to gut the interior and start from scratch, which was no small feat. Dan Rowland helped enhance the concept and create a budget estimate. Planning, Design, and Construction (PDC) established the project and project manager Tamera Baughman oversaw construction. Architectural firm BFrank Studio owner Beverly Frank and her associate Steve Carpenter helped refine the concept into a fantastic, efficient and modern design. Construction was accomplished through The Brentwood Company, under the leadership of Tom Fillmer and construction manager Chris MacDonald.  Finally, the finishing touches on furniture selection were done by Marie Brown from the PDC, and landscape design completed Tom Schlick and his team from UF Facilities – Grounds and Natural Resources.
The team enhanced the interior to be more energy-efficient and modern. Due to the Covid-19 safety protocols, the space was designed with social distancing in mind. The building is now fit for up to twelve employees and includes a kitchen, breakroom, reception area, and a high-tech conference room. The conference room has full Zoom capability and functions as a training room.
The team officially moved back into the improved building on March 1, 2021. It is a big difference from the temporary office space in Yon Hall that they had been sharing during the fifteen-month renovation. Now, they have a space to call their own.
"Yon Hall was fine for a temporary stay, but COVID complicated things and the team was spread out on the 4th floor. What made things even harder was that our team still needed to go back and forth every day to where our department vehicles and tools were at the security building. I'm excited to have the team back together in a great office building and thankful to VP Reynolds for his support helping to make this happen," explained Souza.
Everyone involved in the design and construction came together for the ribbon-cutting ceremony. This small and significant building was celebrated by the security team, who will utilize it to make the campus safer.