Physical Security and Information Technology Collaborate to Create Safer Storage of Campus Security Footage
With the University of Florida updating physical security technology across the Gainesville campus including PK Yonge Developmental Research School, storage of security footage was needed.
The servers that were in place lacked to meet the minimum requirement of 30 days retention of video and was not compliant with Florida statute. The campus plan to add new and upgrade existing cameras required a server and storage infrastructure that could support the growth of over 2,000 cameras, many of which will be added with the new construction across campus.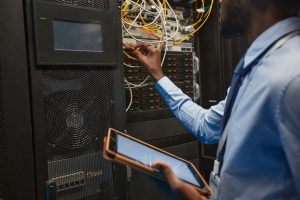 "UF needed to upgrade the camera storage to become compliant with retention requirements needed to increase protection and to comply. Physical Security partnered with UF information Technology (UFIT) to collaborate on campus security storage and technology enhancements in order to accommodate campus growth and capital improvements," said Joe Souza, director of Physical Security.
Due to the need for improvements, a collaborative partnership was born. The Physical Security/UFIT partnership began when the two departments began designing and crafting technological solutions that could host more cameras, video analytics, and be used by all departments and colleges. The planning started in the middle of 2020. By the end of the year the design was complete and tested to meet the performance needed now and in the future.  In spring 2021, the system was built with full redundancy at UF's two data centers, and migration of video camera storage began. This effort was led by Jeff Santerre from The Business Affairs Divisions' Physical Security office.  Full redundancy was an important component to this project, but so was upgrading to the latest technical standards and capabilities. "The university had several distinct video security environments and not all met the recording standards", said Saira Hasnain, associate chief information officer & senior director, UF Information Technology. "This allowed the university to standardize and provide a platform where consistency and resiliency could be attained."
This new system will be a centralized source and ease the process for the UF Public Department (UFPD) to access recorded video data.
"Previously, UFPD would need to access multiple sources to obtain data," said Souza. "Updated cameras, increased video quality and surveillance footage can be used seamlessly to assist UFPD, environmental health and safety, physical security, and emergency management in protecting campus."
There will be a dedicated location to view security footage of live events on campus in the new Public Safety Complex now under construction. This area will be combined within UF police dispatch operations and be called the Global Security Operations Center (GSOC).
"The GSOC will be a game-changer for how security and police will partner to respond faster to emergency calls and allow for real-time monitoring of cameras, door activity and alarms, as well as enhanced monitoring for events, incidents and help be a resource for UF's Study-Abroad program," said Souza.  UF originally had 900 cameras operating across campus. Looking ahead, approximately 3,200 cameras will be installed.
This collaborative effort is a prime example how we are One UF. Coming together as one larger team to benefit the larger Gator Nation.
"It was a great collaboration where UF's Physical Security team brought forward the business needs and expectations and UFIT helped architect the underlying infrastructure in response to those business needs," noted Hasnain.