UF Mentor Protégé Program Graduation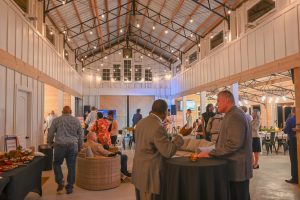 It was a celebration of lifelong connections and an accomplished year for the 2022 UF Mentor Protégé Teams, as they joined for a graduation ceremony on a beautiful December evening. 
UF has a strong commitment to providing long-lasting significant opportunities for small businesses. For the past twenty-eight years, the UF Mentor Protégé program facilitated by the division of Small Business & Supplier Diversity (SBSD) has fostered the foundation of effective relationships between mature established companies and emerging small businesses, including women and minority owned companies.  
"This program has had a significant impact on small businesses working with UF. As these firms cultivate relationships with their mentors and engage our UF departments, they learn how to best navigate the institution and be successful," says Dwan Courtney, the Director of SBSD. 
Mentors consist of mature and established companies that currently work or have worked with UF, or a comparable sized entity, within the last year, whereas proteges are small businesses at various stages in their development, interested in providing their products or services to the institution. 
Individuals who attended the 2022 Mentor Protégé program graduation included representatives from companies such as BBI Construction Management who partnered with Mathers Construction Services and Mister Paper, Inc who partnered with LogoKick.com. To see the full list of 2022 Mentor Protégé Program Teams visit here.  
The graduation recognizes the outstanding commitment and achievements of the Mentor Protégé Teams. In order to complete the program, it is required that both mentors and proteges have monthly meetings, at minimum. Also, proteges must attend monthly workshops throughout the year that follow a structured curriculum.  
"Historically, we have partnered with UF departments, the community, and business leaders to support our endeavors. While this program is housed within Small Business & Supplier Diversity, it is truly a collaborative effort supporting our small business community. Our goal is that this program will promote increased business development and stimulate economic development within our UF communities," Courtney states. 
To learn more about the Mentor Protégé program, please visit the Small Business & Supplier Diversity website. 
To view all photos from the 2022 graduation ceremony, click here.