The Women Divers Hall of Fame to Welcome Cheryl Thacker of EH&S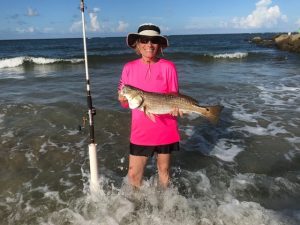 Locating sunken ships and lost planes, helping to discover new species, and inspiring others to scuba dive – these adventures only make up a fraction of what Cheryl Thacker has accomplished throughout her career.   
Environmental Health and Safety's own Diving Safety Officer Cheryl Thacker was recently inducted into the Women Divers Hall of Fame (WDHOF). This is the highest honor for "women leaders and innovators of the diving community," according to the WDHOF.   
Thacker started scuba diving in 1984. Her family is from Missouri, but she went to college at Florida Tech in Melbourne. It was there that she learned to scuba dive, and "fell in love with the underwater environment," the moment she saw it.   
Three years later, she joined the National Oceanic & Atmospheric Administration (NOAA) Corps as a commissioned officer to further her passion for the sea. After Thacker completed her initial training, she started working as a junior officer aboard NOAA Ship Mt. Mitchell. "I got to travel worldwide, diving in all kinds of different environments… it was so much fun!" Thacker stated.   
In 1993, Thacker was chosen for the NOAA Monitor Archeological Research and Structural Survey (MARSS) expedition. The USS Monitor was the first ironclad ship in the US Navy, according to the National Museum of the US Navy. The ship is a relic of the civil war that foundered during a storm in 1862, settling on the bottom off Cape Hatteras, North Carolina at 235 feet. Thacker was part of the first team that helped determine the structural integrity of the USS Monitor. She was one of only two women selected as divers for the mission.   
Thacker states that during the mission, she got to ride in the Johnson Sea Link II submersible. She operated the video cameras on the submersible and successfully recorded the USS Monitor's deteriorating condition, setting the stage for portions of it to be recovered later. It was her longest diving excursion ever, and "I didn't even have to get wet!" explained Thacker.   
Following the USS Monitor expedition, Thacker went on to become the first ever female Executive Officer (XO) aboard the NOAA ship Rude. She was responsible for supervising Jr. Officers as well as the rest of the crew. She often took on the role of Acting Commanding Officer (CO) when necessary. Even though she was the first woman to have the job, she stated that she "did not accept any nonsense from anyone."   
While she was serving as the XO of Rude, TWA Flight 800 exploded and crashed into the Atlantic near East Moriches, NY, just 12 minutes after takeoff. The Rude was called to the scene, and Thacker states that she, as Acting CO, "surveyed the area and located the debris field that was the remnants of the plane." In addition, Thacker stated that this mission "helped to get NOAA back on the radar" in terms of media coverage."    
In 1997, Thacker became the Diving Officer at the Smithsonian Institution's (SI) National Museum of Natural History. She earned her instructor certification with the National Association of Underwater Instructors (NAUI). Thacker oversaw diving operations at SI's Carrie Bow Cay Field Station in Belize and on various research expeditions to the Solomon Islands and Panama.  
Thacker left the Smithsonian in 2000. She said she wanted to oversee her own program, and she "wanted to be back in Florida." She wanted to be somewhere where she could regularly dive into warmer, clearer waters. So, when the University of Florida offered her a position as Diving Safety Officer, she took it. She has been working at UF ever since.  
As the Diving Safety Officer for UF, Thacker is involved in all diving operations throughout the university. She teaches all levels of scuba diving but focuses on training others for scientific diving. Her other duties include teaching CPR, diving first aid, and oxygen administration to treat injured divers, to UF's science divers and EHS staff. Thacker stated that the best part of her job is getting to dive on UF's various research projects.    
Thacker's career as a woman in diving has been an incredible journey. Along the way, she has drawn inspiration from other women in her field. "There are several women who have inspired me and are now my Sea Sisters. All women inducted into the Women Diver's Hall of Fame join a larger family of Sea Sisters," Thacker explains.    
"I grew up watching reruns of Sea Hunt, and Zale Perry was the leading female role. Though Lloyd Bridges acted as if he was the guru of diving – Zale, being an NAUI instructor, taught him how to dive! I met Zale about 15 years ago and most recently sat down alongside her and talked about diving."   
Dr. Silvia Earle, a former Chief Scientist at NOAA, led the first team of women aquanauts. She was also the first human to walk the ocean floor at a depth of 1250 feet – wearing a pressurized one- atmosphere JIM suit, and so much more.   
Jill Heinerth is a pioneering underwater explorer and filmmaker. She has dived deeper into caves than any other woman in history. She trains in various technical diving levels and is an author, photographer, and well known worldwide. "I first met her at a local dive site 20 years ago, and she has inspired me ever since!" Thacker writes.  
Aspiring women divers can draw much inspiration from Thacker's impressive career. She loves what she does. She has a deep appreciation for marine life and the ocean. Her advice to women who want to try scuba diving is "to dive right in, and if you're hooked, get additional training. It is so worth it!"