Spotlight: Ron Fuller from TAPS
"Ron has come to be perceived as the wise ol' grandfather of the department," states Scott Fox, director of Transportation and Parking Services (TAPS) at UF.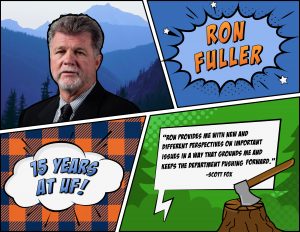 Fifteen years of working at the University of Florida has taught Ron Fuller a variety of lessons. He has become an integral part of the TAPS department while working as the Associate Director of Operations, and his presence has grown across campus. He has led an inspirational career. 
When Fuller first started working at TAPS, he had no previous knowledge of parking. He states that he "realized they weren't really looking for someone with parking experience, they were looking for someone with transportation experience." After receiving two degrees from UF, Fuller already knew the campus. Fox describes that he had a "full set of skills and a passion to contribute," which made up for his lack of experience in the parking industry. 
As he continued to learn through on-the-job training, Fuller's skills developed alongside the department. "When I first started in 2006, we were a dramatically smaller organization of only about twenty or twenty-five people. Now, we have over 100 employees when the school is busy," describes Fuller. "Our reach as a department has increased significantly." 
Along with this increase in reach came an increase in responsibility for Fuller. He is currently responsible for 14 parking structures and 100 plus surface parking lots across campus, according to Fox. "Beyond this, he is the go-to guy for coordinating an ongoing stream of campus projects and events that impact parking."  
The Covid-19 pandemic influenced everyone across the campus, but Mr. Fuller went above and beyond to help ensure the safety of others. He worked to coordinate the transformation of a parking garage into a COVID testing and vaccination site while also managing traffic within the area. He also constructed and custom-fitted plexiglass screens into all the transit vehicles to enhance the safety of drivers and passengers.  
"Beyond all of this," Fox writes, "Ron is my most trusted sounding board, advisor and co-conspirator. He provides me with new and different perspectives on important issues in a way that grounds me and keeps the department pushing forward." 
Ron Fuller's career at the University of Florida has been an inspiring one. He illustrates how, with hard work and dedication, anyone can make a difference.