Regional Transit System (RTS) collaborates with UF to launch a new transit app for real-time bus tracking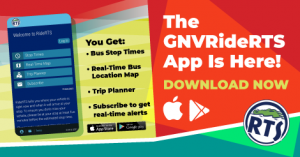 The new transit app, GNVRideRTS, replaces RTS' old TransLoc bus tracker app for campus and city bus service. The new GNVRideRTS app will be released to the public on October 1, 2021 for Apple, Android and desktop (at www.RideRTS.app) in order to give students, faculty and staff a more efficient and user-friendly way to plan their daily routes.
RTS and the transit-based app developer, Clever Devices, collaborated on the development of GNVRideRTS to create an improved bus tracking app.
"The new app will deliver more reliable and accurate information to ensure a better customer experience," said Jeremiah McInnis, Transportation Manager for UF TAPS.
The new GNVRideRTS app will continue to provide riders with all the tools they need to plan their daily commutes, such as:
the ability to check routes and stop times for a specific bus stop location
real-time bus location and tracking via GPS
a more robust Trip Planner that recommends the best route with the option of fewer transfers or less walking
Riders can now benefit from additional new features, which include:
faster and more informative updates on route detours and changes
access to real-time traffic reports
a drag-and-drop rider icon to access "Street View" photos of a specific location
a subscription service for bus stop updates via email and text message
"The new app lets RTS riders track their buses in real time with greater confidence than ever before.  It delivers a higher degree of accuracy, allows for prompt adjustments for road closures and detours, and improves the overall commuting experience," said Scott Fox, Senior Director for UF TAPS.