Powering Progress at the University of Florida: Central Energy Plant Project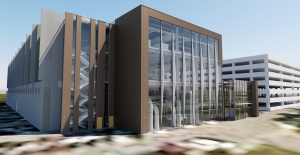 Each day at the University of Florida, students receive a one-of-a-kind education that will help them succeed and strive to find solutions to the toughest challenges we face. Meanwhile, a network of utility systems operates quietly in the background to ensure campus facilities are prepared to meet the needs of the Gator community.
An efficient and resilient infrastructure solution is essential to support the pursuit of the university's primary research, educational and patient care missions.
"Our campus infrastructure provides students, faculty and staff the ability to thrive by utilizing robust utility production and distribution capabilities. This infrastructure powers critical research across the institution and provides suitable building conditions," said Curtis Reynolds, UF's vice president for Business Affairs. "Our facilities are the backbone of every institutional achievement we pursue at UF."
With that in mind, the University of Florida has released an invitation to negotiate for a public-private partnership to build and manage UF's new campus energy facility.
"The goal of this partnership is to maximize future efficiency while fulfilling the ever-growing infrastructure needs of a top-tier research institution," said Chris Cowen, UF's chief financial officer. "We're looking for someone who can work with our utility professionals to help us meet our energy needs as well as our sustainability goals while also helping us keep up with technology advancements and keeping our utility costs in check while maintaining our infrastructure into the future."
The new Central Energy Plant will allow UF to meet current and future needs for thermal services as well as allow the university to offset electrical demand. The combined heat and power approach that was chosen for the Central Energy Plant provides an efficient, resilient long-term model for meeting the needs of the university. Based on current design specifications, the system will be more energy efficient and should reduce UF's overall carbon emissions by 25%, according to a report by the UF's Office of Sustainability. This is the largest step towards carbon reduction the university has taken in 15 years.
It also is expected to include classroom space where students from UF's Herbert Wertheim College of Engineering will learn the fundamentals of how an energy plant works. Cowen said the efficiencies UF will gain through the partnership will benefit students, faculty and staff as well as the entire community.
"It's better to spend our money on students than on fuel," he said.
The facility, to be located on the south side of the Commuter parking lot on Gale Lemerand Drive and south of Museum Road, is being planned as UF's contract with Duke Energy is set to conclude. Construction is expected to begin in 2023, and it will provide steam and chilled water for most of the UF campus.
UF's Facilities Services team engaged Jacobs Engineering Group as the technical adviser during a multi-year analysis and planning period to determine the best solution for the future of utilities production on the main campus, and in conjunction with the Facilities Services project team, has prepared a master plan centered around the following areas:
Construction of a new Central Energy Plant to provide efficient steam, chilled water and electricity using a combined heat and power production method.
Construction of a new south district thermal piping distribution loop to improve chilled water and steam delivery to campus and hospital facilities.
Construction of a new electrical substation on Mowry Road.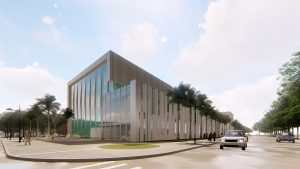 "This project is all about ensuring that the long-term needs of a growing campus can be met. An investment in utility infrastructure, that supports the Gator Community, while offering long-term operational resiliency is a leap into the future for UF," added Mark Helms, UF's assistant vice president for Facilities Services.