National Intern Day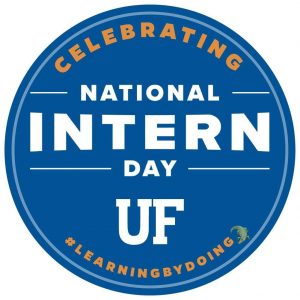 Across the 11 divisions within Business Affairs are interns that have been taking their education beyond the classroom. Today, we celebrate all of the Business Affairs interns and their ability to assist us with university-wide agendas. These students are learning by doing and we thank them immensely for sharing their skills, creativity, and eagerness with us.
Business Affairs, Office of the Vice President
Business Affairs has two interns at the Vice President's Office. Multimedia Marketing Assistant, Kenzie Rennemann and Communications Assistant, Grace Carlisle . Both of these student employees joined Business Affairs in 2020 in the thick of the Pandemic.
Kenzie Rennemann, Multimedia Marketing Assistant
:
My favorite project to work on at Business Affairs so far has been the Superior Accomplishment Awards. For this project, it was rewarding being able to design an invitation card for winners to be presented with. Along with this, I was also able to help design the presentation that would be shown at the ceremony as well as the congratulatory video that would be displayed on social media. It meant a lot that I could be part of a team that helped to design these graphics to celebrate the winners of this prestigious award.
During my internship at Business Affairs, I have refined many skills as well as gained a lot of knowledge about graphic design and animation in a professional setting. Under the great leadership of my supervisor, AnaLee Rodriguez, I have learned the skills of good and efficient communication and have become a better designer because of her feedback and critique. This internship has allowed me to put into practice design principles I've learned in my courses at UF and to gain more experience utilizing design programs such as adobe After Effects and Illustrator. I've also learned the importance of revisions when designing and that it is okay to make mistakes.
I am set to graduate in Spring 2023 (May)
Post-graduation I hope to work in character animation/design in the animation industry or game design industry. My passion is in character designing and digital illustration whether the characters/art are in an animated film or in a video game. I hope within my next two years of college, I can learn more about both industries to gain an understanding of which direction is best suited for me. Overall, I am extremely grateful for this internship with such an amazing leader that has allowed me to gain professional work experience and boost my portfolio.
Grace Carlisle, Communications Assistant:
What has been your favorite project to work on at BA so far?
My favorite project was Superior Accomplishment Award article and presentation. I enjoyed collaborating with Kenzie Rennemann, the other intern working for Business Affairs, and getting to know how people were impacting the school in a positive way. I also enjoyed the recent Hurricane Elsa story about how different departments came together to help keep people safe.
What skills or knowledge have you gained or refined while interning at BA?
I have learned more research and analysis skills. I am also getting better at asking open-ended questions and conducting interviews.
When are you set to graduate?
Spring 2022 🙂
What do you hope/aspire to do post-graduation?
I want to pursue a career in writing while also continuing to run my art business.
Business Services
Kevin Danko, Communications Intern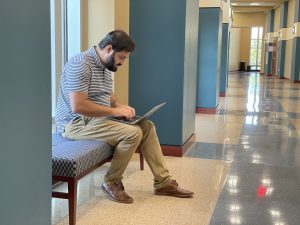 Jennifer Moyer, Marketing and Communications Specialist- "Kevin is instrumental in the branding and graphic design of the Business Services' department. Kevin is also an exceptional features writer and photographer."
Stephen C. O'Connell Center
Renee Musson, Associate Director – "Our interns provide much needed support for all our events, marketing, hire functions, and other business demands.  In addition to the support they provide, they also infuse the department with enthusiasm and new ideas which elevates all of our energy levels."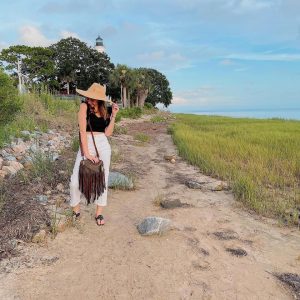 Mary Iacono – HR Intern
Nick Coote – Marketing/Social Media Intern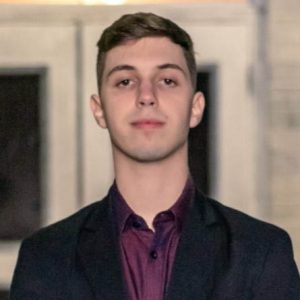 Christian Lopez-Cot – Operations/Event Intern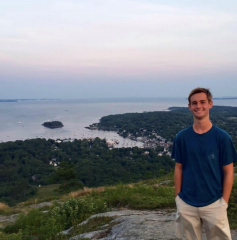 Augustus Logue – Social Media/Business Intern
Planning Design and Construction
Madison Ulvenes, Sustainability Intern
Madison Ulvenes is a Sustainability and Built Environment major in the College of Design, Construction and Planning here at UF. She has been involved in numerous clubs such as Gators Going Green, Climate Action Gator, and the Women's Lacrosse Club. Madison enjoys spending her free time traveling with her family and cheering on all Tampa Bay sport teams.
Quote by her supervisor Dustin Stephany, Sustainable Building Coordinator: "Madison has helped PDC in our sustainable building operations by working close with me on the Gateway projects.  She has helped in documenting SITES (sustainable landscaping certification) requirements, notetaking during interviews, and assessing water models to best reduce potable water usage."
Sustainability
The Outreach and Communications student intern team with the Office of Sustainability assists with a wide range of projects including social media, photography and video editing, e-newsletters, tabling events, and outreach programs. Through this learning internship, our interns have the opportunity to build upon their existing skills, gain a better understanding of sustainability in practice, and connect with sustainability efforts on campus and the larger UF community. The UF Office of Sustainability is lucky to work with such a passionate, diverse, hardworking student intern team that truly make our programs stronger every semester!
   Astrid Rojas, Outreach & Communications Intern
Alexis Irvin, Outreach & Communications Intern
Isabelle Garcia, Outreach & Communications Intern
Bryce Holwell, Outreach & Communications Intern
Chloe Dill, Outreach & Communications Intern