Love is in the Air or on the Golf Course for Brent Ransom
Brent Ransom, the Assistant Director of Education and Training at Facilities Services, has been golfing since before Tiger Woods made it cool. Well, actually, the famous golfer's real name is Eldrick Tont Woods. "But who wouldn't rather go by 'Tiger?'" Brent asked.
Brent grew up in Seattle, Washington as the youngest of three brothers. He and his brothers loved to play all kinds of sports, especially football. However, the large age gap between him and his older siblings meant that it was hard for him to compete in such a physical sport. So, at age nine, he took up playing golf.
Golf has been a constant in Brent's life since then, even as he has shifted careers and environments. He studied industrial psychology at Hampton University, a Historically Black University (HBCU). Then, after graduate school which led him to DC, Brent ended up in Gainesville.
"I never expected to stay here," Brent stated. However, a blind date changed everything.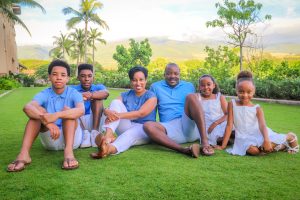 Brent went on his first, and only, blind date right here in Gainesville. His friend worked at the Ironwood Golf Course at UF. While he was there one day, his friend mentioned setting up Brent on a blind date with a friend. Brent was skeptical, but said sure, why not. The date ended up going so well that it was the last blind date that Brent would ever go on.
Brent married the woman he met on his date. Now, he is the proud father of four, with two boys and two girls. He has a strong sense of family, which is something he brings to UF every day. Brent calls UF Facilities Services his extended family.