Inner Road to close for construction
The University of Florida will close Inner Road to all traffic as of April 12, as previously outlined in the university's comprehensive planning effort.
The closure will allow for the replacement of aging underground utilities that support neighboring campus facilities, such as Broward and Newell Halls. Once the underground updates are complete, Inner Road will be a two-way traffic corridor including bicycle and pedestrian-safe spaces. The project will take about 16 months with a projected reopening of Inner Road in August 2024.
The construction will impact parking and personal vehicle traffic along Inner Road, but public transportation routes will not be affected. Please refer to the information and map below for alternative travel routes and parking details:
If you have a scooter permit, seek alternative parking at Garage 4. Additional scooter/motorcycle parking locations are on the university parking map.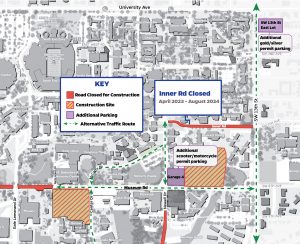 During the closure, a pedestrian pathway compliant with the Americans with Disabilities Act will be in place south of Inner Road, as well as temporary crossways, to allow for pedestrian passage across the road.
Please refer to the illustrated pedestrian pathway map below. Be aware that the locations of the pedestrian crossways will periodically change throughout the duration of the road closure.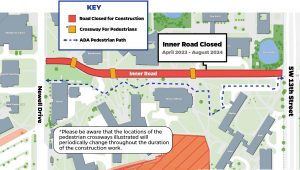 To learn more about construction impacts on campus, visit the UF Campus Closures Map . To receive email notifications regarding campus closures, visit the closures tab of the site and click the blue "subscribe" button located on the top right corner of the page.
If you have any questions, contact businessaffairs@ufl.edu.
The Office of Business Affairs