Gators make gains on waste!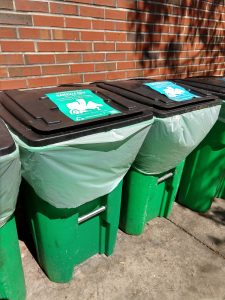 UF achieved a milestone in September when it diverted more than 50 tons of food waste and paper towels for composting in a single month. We have come a long way from the mere 2.76 tons collected when UF first rolled out the program in January 2014!
The UF food waste composting program has steadily gained interest and now includes all Gator Dining locations, PK Yonge, O'Connell Center, UF Health Shands, several Greek houses, and Hare Krishna lunch. These customers take extra care to prevent contamination from plastic, metal, and other unwanted materials in the compost.
Paper towel composting has been implemented in most of the main campus academic and administrative buildings, and was launched in several UF Housing residence halls at the beginning of the fall 2018 semester. The UF campus uses up to 300 tons of paper towels each year.
Prior to the composting program, food waste and paper towels were disposed in the landfill where decomposition can result in the production of methane, a potent greenhouse gas over 25 times more damaging than carbon dioxide.
Now, thanks to successful collaboration among UF Facilities Services, campus partners, and a local commercial composting facility, UF is able to convert the waste into a valuable soil amendment used by landscapers and gardeners.