Facilities FaSTPath Training Program Ceremony
On August 15th, 29 Facilities Services staff members received a FaSTPath Training program certificate for completing various stages in their trade journey. The FaSTPath Training program provides trade specific training for Facilities Services employees in the areas of Carpentry, Plumbing, HVAC, Electrical, Water Distribution, Industrial Maintenance Mechanic, Roofing, Fire Alarm, and High Voltage. Employees in these shops develop their skills, build knowledge in their trade, and advance to the next competency level.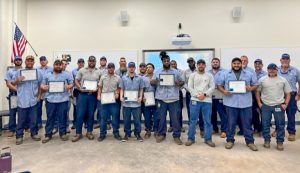 Presenting the awards included Jared Howard, Waste Water Treatment Superintendent, Chuck Rolling, Utility Electrical Superintendent, and Kim Mull, Director of Maintenance and Operations.
The FaSTPath Program, which began in 2011 stands for Facilities Services Trade Path.  
Certificates were awarded to: 
Water Distribution
Jose Diaz, Level 1
Tyler Hardy, Level 3 
Joshua Lynch, Level 3 
High Voltage
Anthony Escalante, Level 3 
Trevor Theis, Level 3 
Plumbing
Randall Barber, Level 3 
Juan Cervantes, Level 3 
Roofing
Gabriel Bellamy, Level 1 
Jacob Fisher, Level 1 
Marquis Paige, Level 1 
Dwarkadish Van Pelt, Level 1 
HVAC
Kenneth Smith, CORE 
Adam Horn, Level 1 
Heath Roughton, Level 1 
Clayton Aldrich, Level 3 
Edson Cruz, Level 3 
Wyatt Hammond, Level 3 
John Strawder, Level 4 
Mark Brillhart, Level 4 
Seth Condon, Level 4 
Henry Mason, Level 4 
James Pinner, Level 4 
Carpentry
Murphy Dyess, Level 3 
Shaw Grigsby, Level 3 
Mark Paschall, Level 4 
Electrical
Charles Watson, CORE 
Brandon Acevedo, Level 2 
Aaron (Bill) Fowler, Level 2 
Michael Bullard, Level 4