Employee Spotlight: Jamie Serrato of Physical Security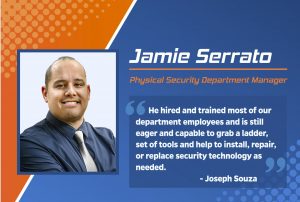 Over the last fourteen years, Jamie Serrato has been an integral part of the University of Florida's safety. He has helped the Physical Security department evolve into what it is today. He is, as Souza describes, "an expert on UF's Security System."   
Serrato's role at Physical Security is essential for keeping the campus safe. He explains that he is "a manager for the department of Physical Security with the responsibility of overseeing maintenance, implementation, and design of security systems for the university."  
His role at UF has put Serrato in charge of many aspects of campus security over the years.  
"He introduced the current technologies that are used today including the software that supports our campus security. He helped to create the way we design, install, and maintain our electronic access control systems, our security cameras, our intrusion detection systems (alarms) and panic buttons. He maintains all critical spare parts and can install, repair, and troubleshoot anything used at UF to support security," writes Souza. 
On a daily basis, Serrato has a lot of responsibilities. He reviews and assigns work to maintenance technicians, creates security designs, and reviews security designs for new construction or renovation of UF facilities. He also spends a lot of time "supporting our group and solving problems for our team and the university," Serrato states.  
According to Souza, Serrato's responsibilities extend across the Physical Security department.  
"He has implemented and maintained the Lenel Access Control Software as well as our Genetec Video Management Software (VMS) and our different types of alarm components. Jamie also established our security maintenance department when he realized that we could maintain our campus security systems more cost-consciously and efficiently and standardizing the equipment we use. He also hired and trained most of our department employees and is still eager and capable to grab a ladder, set of tools and help to install, repair or replace security technology as needed," writes Souza.  
Serrato's drive to uphold his responsibilities stems from an appreciation for the community. Over time, he has watched that community grow and evolve. "I have had a lot of colleagues and friends retire or move on to other endeavors during my time at the university, but there are always new faces to meet and relationships to build," Serrato writes. 
Serrato's favorite memories of working at UF involve spending time with his team. 
 "I really like the group of people I work with, and since we are a small team, I enjoy when we all get to work together on a university emergency or urgent need. Even though the situation is almost always stressful, it is rewarding to see our group members excel," writes Serrato.