Employee Feature: Jordan Benton of Facility Services
Since Jordan Benton began her career at UF, she has advanced through Facilities Services and solidified a presence for herself across campus.  
Benton is a UF graduate and a Gainesville native. She earned her Bachelor's of Arts degree in Political Science and a Bachelor's of Science in Marketing before returning later for her Master of Business Administration degree. Just as she furthered her education, she worked to further her career. 
"UF initially appealed to me from a career standpoint because of the wide variety of career paths available. There is a huge opportunity for growth and development within higher education," writes Benton.
In 2015, Benton began her career at Facilities Services. She started as a Data Management Analyst. Then, in 2017, she became an IT Project Manager for Mark Helms, Assistant Vice President for Facilities Services. In 2020, she became Assistant Director of Operations with a focus on communications and special projects.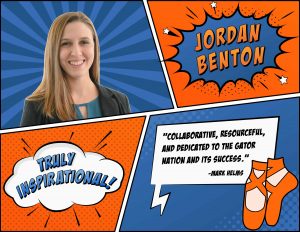 Throughout her time at UF, a lot of progress has been made. Benton has seen Facilities Services rebrand itself, appoint new leaders, and reframe their communications techniques over the last six years.  
"We've made a concentrated effort to standardize practices and focus on efficiency, and it's been really exciting to see how much progress has been made in such a short time," Benton writes. But, of course, this progress would not have been possible without her help.  
This July, Benton won the Elite Gator Award for her work as Assistant Director of Operations at Facilities Services. This award is given out  to those who have gone above and beyond their daily duties and has been of service to the Gator Community. To Benton, the award is a symbol of her work at UF. 
"To me, this award means that what I'm doing really makes a difference to how we operate, but it's also a reflection of the opportunity that 
Facilities Services has provided for me to grow as an employee. One of my primary motivators at work is being able to improve people's experiences on a daily basis, and I've received a tremendous amount of support in taking on projects aimed at doing just that," writes Benton. 
The support that Benton has received for her work has been well earned. Tricia Coraggio, Administrative Specialist, says that Jordan is always there for those around her.  
"She can work with anyone and manages to really listen to everyone to help determine what their needs are and manages to translate that into action by pulling in from various sources," writes Coraggio.  
Mark Helms describes Jordan Benton as "collaborative, resourceful, and dedicated to the Gator Nation and its success." 
In addition to excelling in her workplace, Jordan also makes time for her passions. She has been dancing since she was four years old, and has been teaching dance for years. "When I am not working or dancing," she states, "I am usually spending time with my husband and family." 
Jordan Benton's success through the University of Florida is truly inspirational for those who are striving to progress in the workplace. She advises those looking for growth to "stay open, ask questions, and say 'yes' to opportunities to learn. A significant number of opportunities come your way when you are willing to take the time to be curious."