Business Affairs Departments Collaborate on Conservation Area Land Management (C.A.L.M.) Plan
Birds sing alongside the oak trees. The smell of earth and soil fills the air. As three UF employees trek through the Lake Alice Conservation Area, to their surprise, a family of otters is spotted along a creek nearby. Quickly, they snap a picture to capture the moment.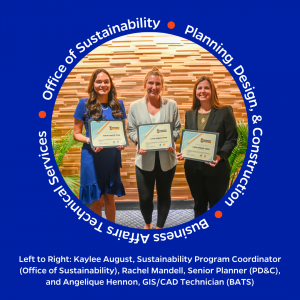 This was just one of many incredible experiences shared by Rachel Mandell, Senior Planner for Planning, Design & Construction, Kaylee August, Sustainability Program Coordinator for the Office of Sustainability, and Angelique Hennon, GIS/CAD Technician for the Business Affairs Technical Services (BATS) as they traversed the 31 conservation areas on campus that span over 445 acres (about twice the total floor space of the Pentagon) to update UF's Conservation Area Land Management (CALM) plan.
The University of Florida offers a valuable natural environment for students, faculty, staff and the greater Gainesville community to enjoy, while also serving as vital spaces for teaching and research opportunities. Beginning in February 2022, a team led by Mandell, August, and Hennon, began updating UF's CALM plan, which has not been updated in nearly 20 years. UF's CALM plan serves to document the existing conditions of campus conservation areas while supplying added recommendations for future enhancement. The CALM plan also plays a significant role in implementing and updating the Conservation Element of the University's Campus Master Plan.
Individuals with backgrounds in wetlands soils, GIS (Geographical Information Systems), planning, community engagement, and sustainability worked tirelessly for the success of this massive undertaking. Their collaboration and efforts have been instrumental during the project.
"When we started the 2023 CALM Update process, I was excited to be a part of a collaborative team within Business Affairs," August said. "This made it natural for us to engage the whole UF community in this process. We wanted everyone who wanted to be involved to be seen and heard."
Mandell and August began the process by cultivating a diverse steering committee of university faculty, staff, students, and City of Gainesville representatives. The committee's purpose was to gain insight and recommendations used for the foundation of the new CALM plan.
Throughout 2022, they invited committee members and stakeholders to participate in over 50 site visits to conservation areas across UF's campus. An immense amount of planning and thought went into their site visits. During site visits, participants were given a detailed packet with in-depth site information such as wetlands, soils, archeological information, and GIS maps of the area. In addition, the team developed engagement worksheets for these visits, which included activities to encourage open dialogue while adding an enjoyable group element. After each site visit, the team facilitated weekly follow-up meetings while also providing the committee and stakeholders with virtual tours of the conservation lands they had created as a resource.
The team took a collaborative and innovative approach to problem solving during the months-long process from the start, recognizing the importance of establishing a strong partnership with the Disability Resource Center to gain insight and address safety and ADA concerns in and around conservation areas. In addition, the team worked with students from the College of Design, Construction and Planning to further protect our conservation lands.
"When creating a strategic plan to manage these spaces, it was crucial that we take the time to not just listen and gather feedback, but to build consensus and understanding around how these spaces will be maintained for years to come," said Mandell "By incorporating a participatory approach to the CALM update process, I feel we've built lasting relationships between campus operations and faculty and that was important to us."
Through partnerships, embracing creativity, and supporting open discussion the team is excited to announce the new and improved CALM update will be published in Fall 2023. Instead of being presented as a plain text document, the new plan will be presented as an interactive website.
"I'm excited to share the CALM plans in a new way and showcase the technologies we have to offer. Visitors to the new platform will be able to interact with dynamic maps and information about each conservation area," said Hennon "It's a much more engaging experience than the previous plans and will hopefully inspire more visitors to explore these special places."
The CALM update team has received a 2023 Champions for Change award for their significant contributions in the area of Sustainability.
If you are interested in learning more about species discovered on UF's campus, please visit the BioGator website, an added resource which the Office of Sustainability and Planning, Design & Construction helped create. The BioGator portal is a living biodiversity inventory where users can access over 1.4 million species observances in Florida. The campus community can access research-grade data that is continuously updated using records from the Florida Museum of Natural History as well as from iNaturalist and eBird .
Conservation lands play an imperative role in making UF uniquely beautiful. Encouraging overall wellness and supplying places for the Gator Nation to explore and learn.