Business Affairs Associate VP Retires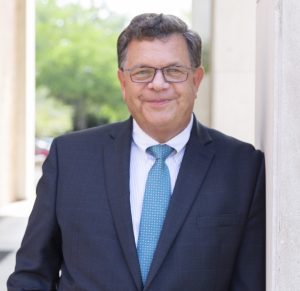 Retirement is often referred to as a turning point in one's life. It marks a new chapter and a shift in lifestyle. In the case of Craig Hill, his retirement marks a turning point in the lives of his colleagues and a change in how they view the workplace.
Hill's time spent as Associate Vice President of Business Affairs has fostered many friendships across UF. He has influenced everyone he has worked with. Whether he is sharing knowledge, inspiring others, or supporting the community, he is always making a difference.
Vice President of Business Affairs, Curtis Reynolds, said that "Craig is one of the most focused and passionate colleagues that I have had the pleasure to work with. His genuine passion shows in his decisions to do the very best for the students, faculty, staff, and visitors of the UF community."
The decisions that Reynolds refers to has been seen through the Stephen O'Connell Center and the Transportation and Parking Services department. Craig Hill has been responsible for both departments since he began working as Associate Vice President of Business Affairs 6 years ago and he has made many positive impacts on the areas.
Lynda Reinhart, Director of the Stephen O'Connell Center, states that it has been a pleasure to work with Craig. She writes,
"I have learned a lot as he shared his knowledge and experience and have become a stronger leader as a result of his guidance. I appreciate
our frank, yet humor-filled conversations and a relationship where coaching was always in the forefront. Thank you, Craig, for all you have done for the O'Connell Center, my team, and me."
Scott Fox, director of Transportation and Parking Services, has also been collaborating with Hill since his arrival to Business Affairs and The University of Florida six years ago and has learned a lot from his guidance. Fox states that,
"In a kind and supportive way, Craig stepped in and immediately helped us strengthen our team and inspired us to a higher level of performance. He has been one of the best sounding boards, brain-stormers, collaborators and co-conspirators I have ever worked with, and he leaves us immensely better than he found us."
Last, but certainly not least, is Tara Hallow. Hollow is the Operations Manager of Events and Permitting at the Office of the Vice President for Business Affairs. She says that she has been Hill's "right-hand woman for 5 years," and has worked alongside him throughout his journey at UF.
Hollow writes, "I have had the pleasure of watching or playing a small part in everything he has accomplished here at UF. If I had to narrow down four things that I feel were the most impactful accomplishments during his UF career I'd say:
Garage 14 on Gale Lemerand Dr.; Supporting me in creating and launching the first online event permitting system for Business Affairs;
Heading a committee and being the driver to overhaul the UF Regulations on how space is utilized on campus and creating the first ever written Business Affairs policies to support those regulations; and
The relationships he's built across campus which opened the line of communication and paved the way for collaborations that did not exist prior to him.
Craig has been a great leader in Business Affairs and a wonderful colleague; he is approachable, his door is always open, he is often the voice of reason, he's a great communicator, a mentor and a friend. He will be missed by all here in the Gator Nation."
Craig Hill's retirement prompts the reflection of all he has done for the University of Florida. His impact is almost too large to measure. However, as Hill prepares to move forward into a new chapter of his life, his friends and colleagues with will look back on all he has taught them throughout the years. His impact will continue to shine through the way others at UF view their community.