25 Years at UF: Major Barber Employee Spotlight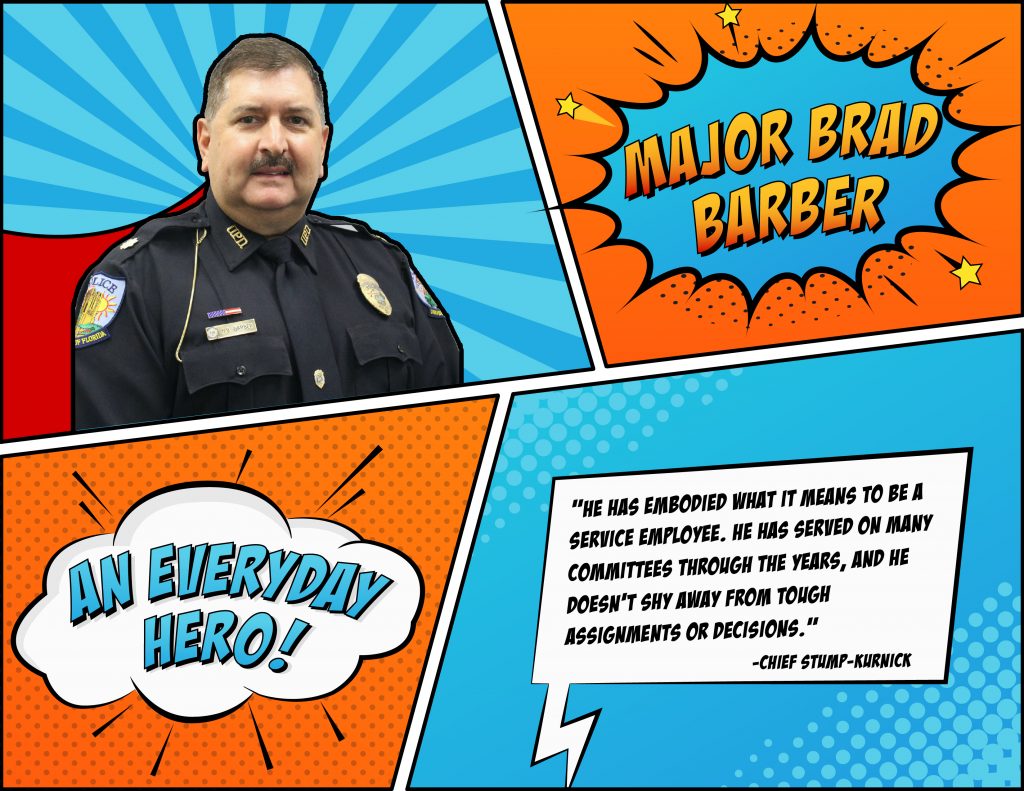 Employee Spotlight: Major Brad Barber
Major Brad Barber always knew he wanted to help people. He knew that serving and protecting others was his calling. He has gotten to fulfill this calling at the University of Florida Police Department over the last twenty-five years. This December, he plans on retiring.
Early Career
Just two days after retiring from the U.S. Army as a Major, Brad Barber began his first day at the UFPD as a civilian Public Information Officer (PIO) on October 4, 1996.
"Finally, having received my bachelor's degree in Criminal Justice from the University of Florida, when the opportunity presented itself at UFPD, it was an obvious choice for me. I recognized this was a career that had tremendous opportunities and, more importantly, focused on helping others in their day-to-day lives," writes Major Barber.
Present
Major Barber describes his career as both consistent and inconsistent. Each day, he ensures daily operations from the Community Service Division (CSD), Office of Victim Services (OVS), Internal Affairs, Public Information, and Clery Act Compliance (OCAC).
"The inconsistency occurs as a result of the very nature of law enforcement," Barber writes. Law enforcement is a dangerous and unpredictable career. As someone who has worked multiple positions across the UFPD, Major Barber understands this danger better than anyone, according to Chief Linda Stump-Kurnick. The UFPD never knows how it will need to protect students and staff on a given day, but people like Major Barber ensure the job gets done well.
It is apparent to many that Major Barber loves his job. "He's a hard worker and a loyal employee. We work a lot of long and unpredictable hours, and he is always right up there with that," explains Chief Stump-Kurnick. "He has embodied what it means to be a service employee. He has served on many committees through the years, and he doesn't shy away from tough assignments or decisions."
"I can't even begin to tell you all the ways he's helped make UF's campus safer over the years," states Chief Stump-Kurnick. From hurricane operations to football games to presidential visits to campus, Major Barber has overseen the security of it all. He has served the campus throughout his whole career, which is what makes him such an amazing member of the UFPD. "One of the things that's admirable about Brad is that he understands why we're here, and we're here to serve."
When asked about his favorite memory from his career, Major Barber replied with multiple paragraphs describing his whole history at the UFPD. He cites his first day as the beginning of his favorite memories. "…I found myself talking to a young man who called our department's Public Information telephone line because he was despondent and felt suicide was 'his only option.' Fortunately, I was able to convince him otherwise and helped him obtain the assistance he needed at the time."
Incidents and occasions, big and small, help comprise Major Barber's favorite memories at the UFPD. Successful collaboration with hundreds of people across campus over the years also play a vital role. However, after such an enormous career, this is how Major Barber describes his favorite memory at the UFPD:
"My favorite memory is the one created each day while having the good fortune, honor, and privilege of working with the finest law enforcement and support staff professionals one could ever hope to work with over all these years, those of the University of Florida Police Department. A department I am proud to say I have been a part of, and one the University of Florida should be just as proud to say serves all who enter this campus."
After diligently serving and protecting his community for decades, Major Barber plans to retire from the UFPD this December. "We're really going to miss Brad. He's going to leave some big boots to fill," explains Chief Stump-Kurnick. "When he walks out those doors, he's taking a lot of UFPD history with him."
Major Brad Barber has spent his entire career helping people. He is a prime example of an everyday hero, and, as Chief Stump-Kurnick explains, he has been a great ambassador for the UFPD over the years.