Impact Notice for Museum Road and Hume Hall Road Closure
On Monday, March 14 the section of Museum Road, from Gale Lemerand Drive to Woodlawn Drive, will be closed to normal traffic in order to facilitate installation of underground utilities. This will block multiple road entrances to Hume Hall. Access to the service drive on the west side of Hume Hall will remain open to vehicular traffic as well as a pedestrian entrance to Hume Hall.
Vehicular Traffic Detour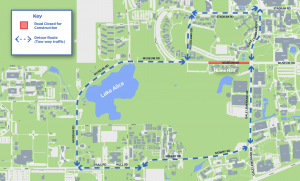 Pedestrian Walkway to Hume Hall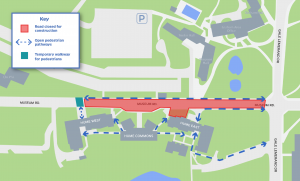 RTS Bus Detour
Information regarding the RTS bus service and the impacted routes can be found at: https://taps.ufl.edu/alternative-transportation/rts/
These projects represent a strong commitment to implementing a vision for our campus developed through the Strategic Development Plan, the Transportation and Parking Strategic Plan, and the Landscape Master Plan. For additional information, please visit:
You may also contact Transportation and Parking Services at taps.ufl.edu or 352-392-7275 (PARK) with any questions you may have.