Public Safety 
Community Police Academy
This is a free program and open to the public. Topics covered includes patrol operations, criminal investigation and firearms training. Two academy classes will be held a year during the Spring and Fall semesters with eight classes on separate weeks spread throughout each semester. UFCPA will meet at the University of Florida Police Department in the Community Services Division classroom on Wednesday evenings from 6 PM to 9PM.   The training will consist of classroom and simulation training (traffic stops, DUI investigations, and the firearms simulator). Attendees will conduct at least one officer ride along prior to graduation.  At the end of each Academy class, a graduation will be held to recognize the participation of the students.  Click Here for more information.
If you have any questions, please contact the UFCPA Coordinator, Officer Dianna Ullery at 352-392-3303 or email dullery@ufl.edu
To register go to Inquiries & Registration and click on Register for Community Police Academy.
Active Shooter Training (DEM827)
What would you do if you ever faced the unthinkable, an Active Shooter?  The University of Florida Police Department offers a presentation entitled, "Community Preparedness for the Active Shooter."  Run, Hide or Fight are the three actions to be considered if ever facing an active shooter situation.  This 60 minute presentation goes into detail on factors to consider when deciding which option is best in any given situation.  If you would like to schedule an active shooter presentation for your staff, please contact our Community Service's Division at 352-392-1409 or fill out an Inquiries & Registration form.
R.A.D. (Rape Aggression Defense)
Rape Aggression Defense, known as R.A.D., is a self-defense program designed specifically for women. The R.A.D. approach to personal safety begins with awareness, prevention, risk reduction and risk avoidance, and progresses to hands-on physical defense techniques.
Participants in the program will learn a wide range of tactics, including verbal techniques, ground defense options, escaping from bear hugs and choke holds, and many more. The practical techniques are designed to maximize the strengths of a woman's body and build upon existing instinctive responses to provide women with effective self-defense options. In R.A.D., women will have the opportunity for hands-on dynamic impact practice and realistic simulation exercises.
The R.A.D. program is taught by nationally certified instructors who are dedicated to the growth and well-being of the women in our campus community. The course is suitable for women of all ages and abilities.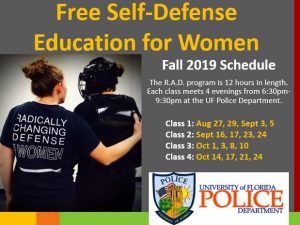 The Fall 2019 class dates are listed above. Register online using our Inquiries & Registration form and please provide us with the following info:
Name
E-mail address
Phone number
Class dates you would like to attend
Self-Defense Awareness and familiarization Exchange
The S.A.F.E. (Self-Defense Awareness and familiarization Exchange) program is taught by nationally certified instructor who is dedicated to help members of our community become more aware of and better familiar with basic self-defense concepts. The course is a 2 hour class geared toward adult and teenage women. The class starts with a short introduction video, then progresses into a 1 1/2 hour physical self-defense familiarization presentation.
The class is free, but enrollment is limited to ensure the highest level of quality instruction. Here is the current schedule for the 2019 year.
2019 Schedule:
Tuesday, August 20, 2019 / 6:00 p.m. to 8:00 p.m.
Monday, September 9, 2019 / 6:00 p.m. to 8:00 p.m.
Tuesday, October 15, 2019 / 6:00 p.m. to 8:00 p.m.
Tuesday, December 10, 2019 / 6:00 p.m. to 8:00 p.m.
Tuesday, January 14, 2020 / 6:00 p.m. to 8:00 p.m.
All classes will be held at the UFPD – Community Services Division classroom (Building 596). The UFPD is located at the corner of Museum Road and Newell Drive.
To register, please email the Program Coordinator using our online Inquiries & Registration form or by calling (352) 273-3328. Please provide your name, email address, phone number, and which class dates you would like to attend.
Small Business and Vendor Diversity Relations
GET 202 – "Supplier Diversity Basics"
Provide UF faculty and staff an introduction to our campus supplier diversity program and how our actions result in the University of Florida achieving its strategic goals of increased utilization of small and diverse businesses.
Location: UF East Campus, 2046 NE Waldo Road, Suite 3201 Gainesville, FL 32609
September 11, 2019 |9a -11a
November 13, 2019 |9a -11a
Business Development Workshops
UF Business Development Workshops is a comprehensive monthly program designed to give small business owners the tools needed to become a successful vendor for UF.
Time: 9am-11am
Location: UF East Campus Complex, ESSIE Building 1604 – Rm 105
(2100 NE Waldo Road Gainesville, FL 32609)
Topic: Mastering the Bid Proposal Process
Date: Thursday, August 15th
Topic: Making the UF Bookstore Your Customer!
Date: Thursday, September 19th
Topic: Identifying Your Target Market
Date: Thursday, October 17th
Topic: Quick Books for Small Businesses
Date: Thursday, November 14th