FMLA Training for Business Affairs
The Family Medical Leave Act ( FMLA) of 1993 is a federal law designed to protect an employee's jobs when they need time off from work to attend to serious health conditions affecting themselves, qualifying family members, that is a spouse, child or parent. FMLA is an employee benefit that promotes a healthy work- life balance in the event an employee has to, make a decision regarding a serious health condition that personally affects them or a qualifying family member.
This Family Medical Leave Act ( FMLA ) training session is meant to help leadership understand the basic provisions of the law, UF FMLA Policy, as well as how to avoid prohibitions of the FMLA Law.
This training session will enable you:
Define FMLA
Explain basic provisions of the law and UF FMLA policy
Avoid actions prohibited by the FMLA law
Protect yourself and UF from liability
Explain UF FMLA process and procedure
How to manage FMLA cases
Identify available resources
Course offered on July 17, 2018  9am-11am at Main Street Training Building 270, located in Facilities Services off Radio Road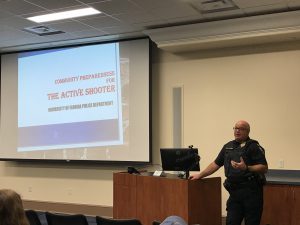 Active Shooter Training (DEM827)
What would you do if you ever faced the unthinkable, an Active Shooter?  The University of Florida Police Department offers a presentation entitled, "Community Preparedness for the Active Shooter."  Run, Hide or Fight are the three actions to be considered if ever facing an active shooter situation.  This 60 minute presentation goes into detail on factors to consider when deciding which option is best in any given situation.  If you would like to schedule an active shooter presentation for your staff, please contact Captain Jeff Holcomb at jholcomb@ufl.edu or 352.273.3301
HR 101 (SCS010)
Explore the legal side of supervisory decision-making by examining how federal laws affect employment decisions, what you can and can't ask applicants and employees and UF policies and procedures.
Course offered on July 23, 2018  8:30am-12pm at Main Street Training Building 270, located in Facilities Services off Radio Road