Employee Spotlight: Mona Vega of Transportation and Parking Services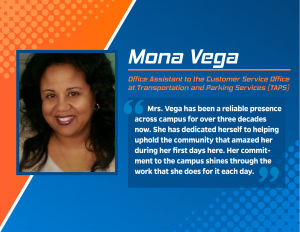 Mrs. Vega, more widely known as Mona, has been a part of the UF family for thirty-two years. She currently works at Transportation and Parking Services (TAPS) as the Office Assistant to the Customer Service Office. However, her experiences at UF go well beyond just one job.   
"I started at UF in 1989 with UFPD as a parking patroller in December," Mrs. Vega writes. "It was my first time working outside, and I was working commencement, and it snowed/iced over that day. I'll never forget that day!"   
While working with UFPD, Mrs. Vega discovered a lot about campus and culture of UF. "I was 21 years old and was amazed by the community setting here," she explains.  
Seven years later, in 1996, Mrs. Vega joined TAPS. She states that her first day was a nervous one, as she had no experience working in an office environment outside of high school typing. "However, I learned quickly and enjoyed the business of this department," she explains.  
She initially started at TAPS as the appeals clerk. Then, she was promoted several times to senior clerk, fiscal assistant in accounting, and then to a supervisory role in 2007. "I have stayed because of who I work with, the team here, and the help the people here will give if you ask!" states Mrs. Vega.  
Throughout her career, Mrs. Vega has seen the entire campus evolve. She describes how the most changes have been in "the campus layout, new buildings, garages, how we run our operations, moving a lot of what we do to online services, and moving towards a more technical environment and the equipment to utilize it." However, Mrs. Vega also adds that "this is an ever-changing environment, and more changes are coming for sure."  
Mrs. Vega's son also worked at the University of Florida for six years. "Working here, I feel, helped him grow up and gain tremendous people skills," Mrs. Vega writes. "The diversity here is tremendous, and it prepared him for the world as we each have a different story to tell."  
When asked about her favorite memories at UF, Mrs. Vega said they took place while working with UFPD during football season, when the whole Gator Community comes together to celebrate. "Lots of excitement, people, and, of course, being in the middle of the college environment," she writes.   
Mrs. Vega has been a reliable presence across campus for over three decades now. She has dedicated herself to helping uphold the community that amazed her during her first days here. Her commitment to the campus shines through the work that she does for it each day.