Celebrating Significant Transportation Improvements
The SW Campus Transportation Improvements project consists of several components including the roundabout at Radio Road and Museum Drive, the new Ballpark Way with a rebuilt intersection on Archer Road, and modifications to turn lanes, medians, and crosswalks along Hull Road.  Together, these improvements provide better accessibility for all modes of transportation – vehicles, buses, bicycles and pedestrians.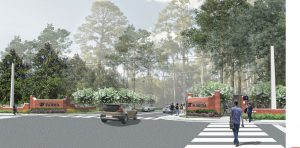 The improvements had been recommended in the Campus Master Plan and the Long-Range Transportation Plan of the Metropolitan Transportation Planning Organization (MTPO) for many years.  The recent opening of the university's new baseball stadium provided an opportunity to make these improvements a reality – not just for baseball fans – but for all visitors, students, and employees who access this part of campus. The roundabout provides a safe and visually pleasing connection between two campus roads that had experienced long delays and difficult pedestrian crossing.  Ballpark Way enables a new connection to Archer Road with direct access via SW 23rd Terrace to Williston Road and points beyond. The modifications along Hull Road increase capacity at the SW 34th Street intersection and increase pedestrian safety at several crosswalks including access to the SW Recreation Center and softball stadium.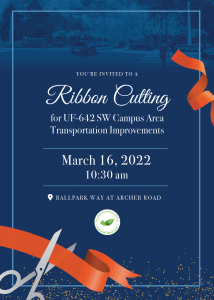 The full project scope could not have been accomplished without partnership of the Florida Department of Transportation (FDOT) and City of Gainesville.  FDOT supplemented project funding to create a win-win with enhanced modifications at the Archer Road intersection that ease travel along that busy corridor.  The City of Gainesville partnered with expertise and guidance for the connection to SW 23rd Terrace and the citywide traffic signal system.  The project was also supported by the patience and partnership of campus entities – IFAS, University Athletic Association, and the venues of the Cultural Plaza (Phillips Center for the Performing Arts, Florida Museum of Natural History, and Harn Museum of Art) – who patiently endured the construction phase but will now benefit by improved transportation access. 
The University of Florida celebrates this impactful project – the SW Campus Transportation Improvements – with its community partners in a ribbon cutting ceremony on March 16th at 10:30am.