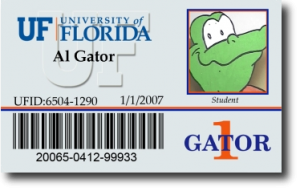 Gator 1 Cards have been issued to every student, staff and faculty member. These cards should be worn, while on campus. Wearing your Gator 1 Card helps to ensure safety and security on campus. This is an additional safety measure the university is taking to maintain a safe environment while on campus during COVID-19 and thereafter.
Please note that only employees designated as On-Campus Essential or Remote Essential may be present on campus during the time the university is limiting on-campus work to essential employees only. Departments are advised to identify anyone who may need to be on campus as essential to ensure they have the building access they need. Faculty and staff who need to be on campus for any reason should wear their Gator 1 Card so it is visible to ensure safety and security. Directors and AVPs may email gator1card@bsd.ufl.edu to request lanyards and clip-on holders for their departments.
For departments that have staff currently on campus, please have employees wear their Gator 1 Card in a visible location immediately, while on campus. The lanyards and clip-ons will be delivered by campus mail.
Thank you for your assistance in implementing this new procedure.
FAQ's