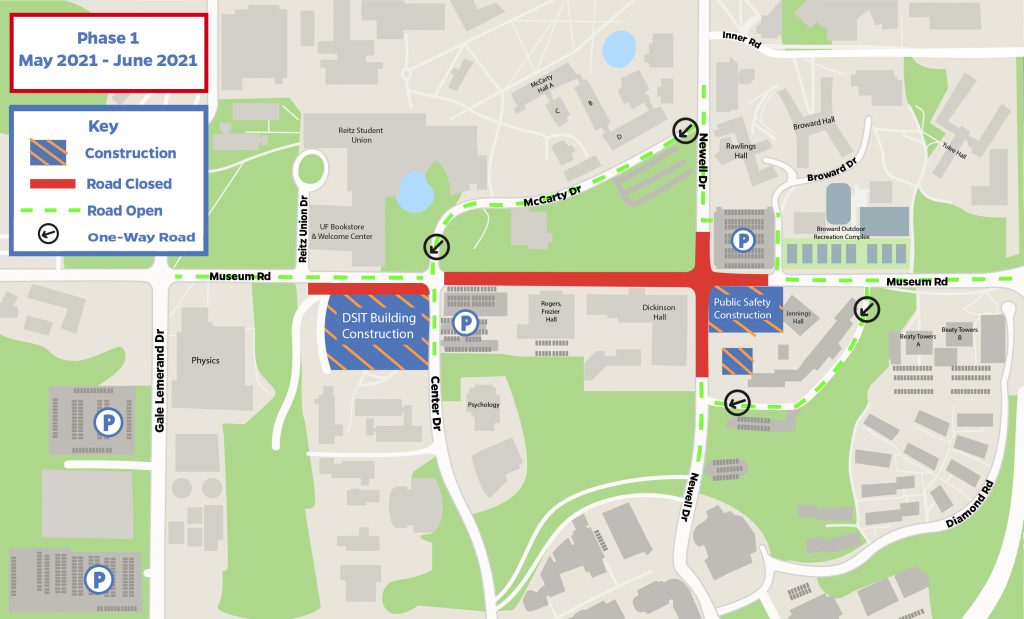 Start Date: May 10, 2021
Location: Museum Road between Center Drive and Broward Drive
Impact Type: Road Closure
Overview: Construction Phases (PDF)
Attachment: Media Advisory (PDF)
Museum Road between Center Drive and Broward Drive on the University of Florida campus will close May 10 for Utilities infrastructure additions and improvements.
These improvements will provide upgraded utilities services to many existing buildings as well as the Malachowsky Hall for Data Science & Information Technology, New Undergraduate Residential Complex with Honors College, and the Public Safety Complex projects.
Construction will not affect parking, and drivers will be redirected to alternative routes. Entrances and exits to buildings will not be blocked and will be available to pedestrians as usual with some modifications.
Signs will go up along Museum Road by Monday, to alert motorists and pedestrians of the upcoming utilities work.
Museum Road to Newell Drive is expected to reopen in August. This is the first phase of a seven-phase underground infrastructure update. Phase two will begin around late-June and conclude in August, which will also affect Museum Road.
These improvements will provide upgraded underground utilities such as chilled water, steam, and electric lines across the University of Florida's main campus and will serve the Gainesville community for many years to come.
Due to construction, RTS bus routes listed below will have detours starting on May 3rd. To review route updates, you can click on the route number below or visit go-rts.com
Campus Connector
While the Campus Connector will not be able to access some areas of campus during the project's timeframe, service will still be provided. In addition, the updated routes will allow service to two new locations, with stops at the HUB on Stadium Road and at Turlington/Griffin-Floyd on Union Road.
Please see /taps.ufl.edu/alternative-transportation/campus-connector/ for more information.