Dwan Courtney, Director of Small Business and Supplier Diversity
Dwan Courtney, Director of Small Business and Supplier Diversity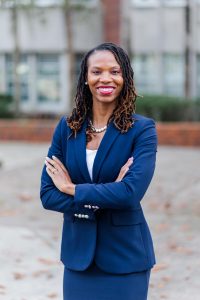 Dwan Courtney, Director of Small Business and Supplier Diversity (SBSD), provides services and support designed to facilitate utilization of small diverse businesses by UF departments and academic units. As the director, through collaborative relationships with campus and local community and business leaders, Courtney will develop programs and services designed to encourage small businesses to participate in university procurement opportunities.
Prior to being named the Director of SBSD, Courtney was the Small, Minority & Veteran Business Procurement Program Coordinator at the City of Gainesville. Prior to her role with the city, Courtney was formerly the Marketing & Communications Specialist with UF's Small Business and Vendor Diversity Relations. Courtney has over eight years of experience in supplier diversity, procurement, entrepreneurship and budget planning.
In her former role in SBVD, Courtney was instrumental in administering many of the department's outreach events, including monthly business development workshops, the UF Mentor – Protégé Program, and the Annual Small Business Vendor Fair. Those efforts, in partnership with UF departments and community leaders, assist small, women-owned, and minority-owned businesses with developing skills, strategies, and networks to enable them to effectively compete on university contracts and procurement opportunities.
Program Assistant: Jazmyne Randall