Craig Hill, Associate Vice President, Business Affairs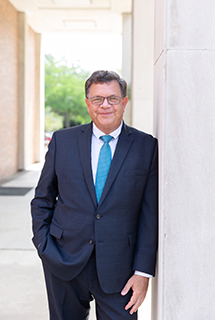 Craig R. Hill is responsible for the Stephen C. O'Connell Center and Transportation and Parking Services. Prior to UF, Craig worked at Boston University for 35 years in various positions of increasing responsibility. For the last 12 years, he was the Associate Vice President for Auxiliary Services and most recently responsible for the strategic leadership and direction to Dining Services, Parking and Transportation Services for both Charles River and Medical Campuses, Events and Conferences, and the Tsai Performance Center. He also served as President of 660 Corporation, a for-profit subsidiary of BU, overseeing the operation of 11 convenience stores. Craig's responsibilities also included the financial oversight of all auxiliary operations as well as the planning, design and renovation or construction of dining and convenience store facilities.
Mr. Hill holds a bachelor's degree in business administration (accounting major) and master's degree in business administration, both from Northeastern University.
Mr. Hill is an active member of various professional associations including the National Association of College and University Food Services and the National Association of College Auxiliary Services. Craig and his wife Nadine have two sons.