Wes Joyner, Administrative Support Assistant II
Wes Joyner, Administrative Support Assistant II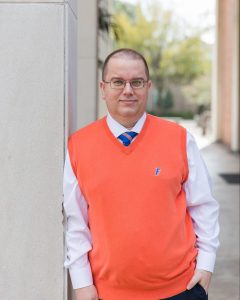 Wes Joyner is a Florida native and graduated summa cum laude from the University of Central Florida.  He joined the Business Affairs team as a temp in January 2020 and decided to continue his career at UF, where he aims to provide an excellent guest experience for our visitors in Tigert Hall.
Wes began his career as a signals intelligence analyst in the US Marine Corps.  After finishing college, he spent five years teaching high school mathematics in Levy County.  As a former teacher, he is committed to helping Gators reach their educational goals.
When he's not working, Wes is usually reading a book or watching videos to learn something new every day.